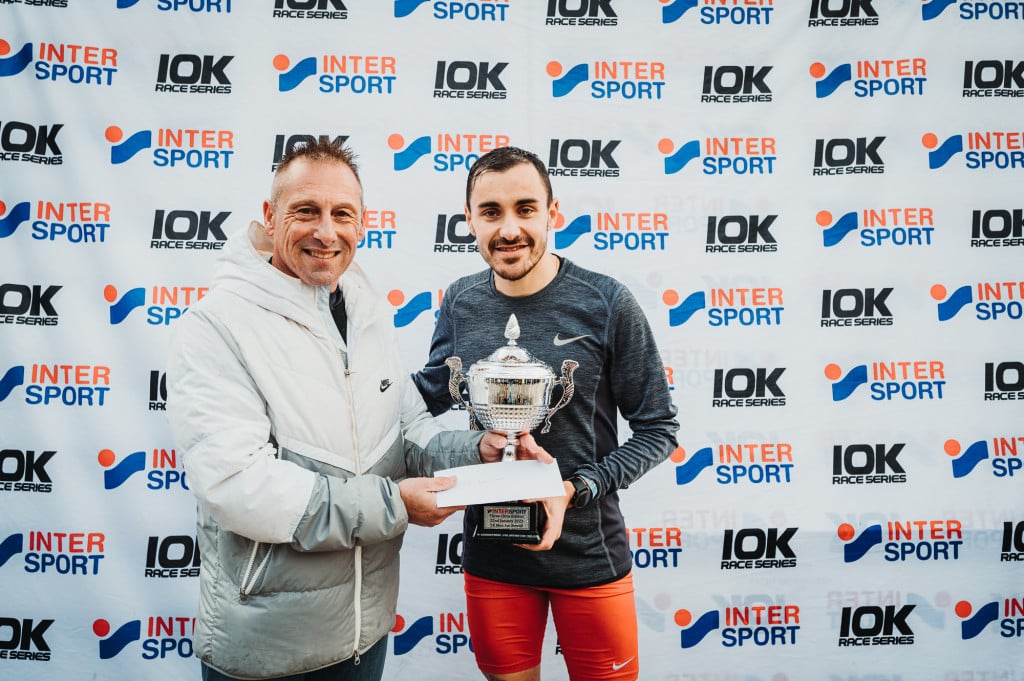 The Intersport 10k and 5k Series saw the first race of the year hosted in the Three Cities, where 300 athletes took part in the 10k and 5k distances, the latter proving to be equally popular as the 10k race.
The sold out event started off in Birgu and took a route along the seafront into the neighbouring Cospicua and Senglea waterfronts.  The wet and slippery conditions in various parts of the race saw many athletes taking a cautious approach to avoid injury mainly from those vying to be part of Team Malta in the forthcoming Games of the Small States of Europe, nevertheless the race still provided some thrilling action particularly as athletes edged towards the finish line.
5km Race
There was no surprise in this distance as Dillon Cassar took the lead and kept in front of the pack to win the race in 15:35. Behind him a duel ensued between Kurt Dalli and Mark Herrera who both sprinted head to head in the last metres before the finish line.  Dalli pipped Herrera to second place will miliseconds separating the two.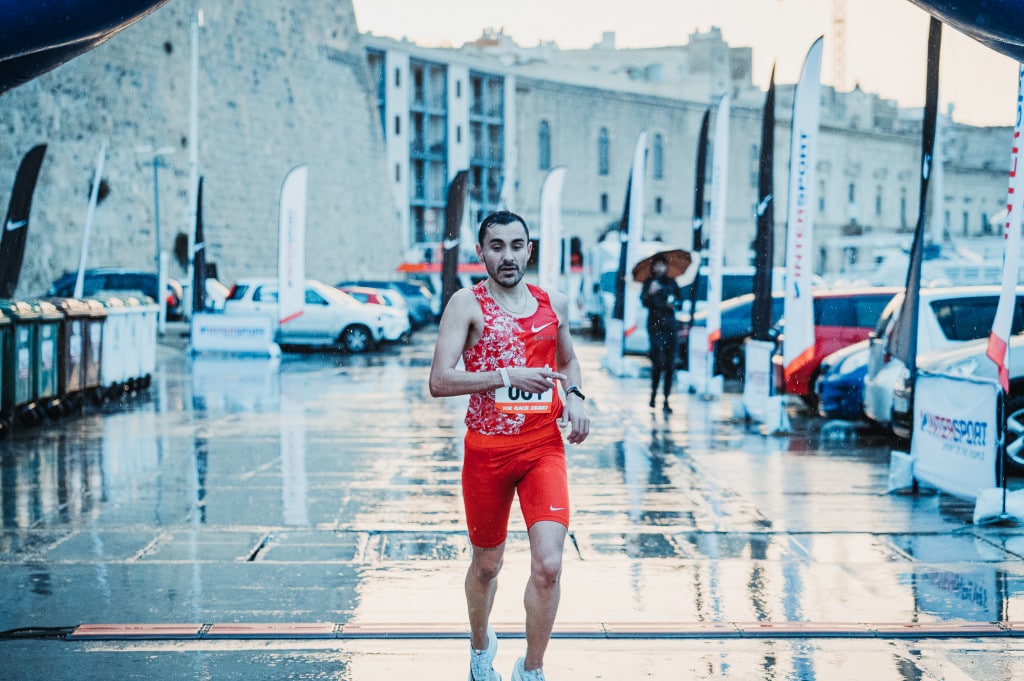 10km Race
Aaron Mifsud, a seasoned runner marked his debut on this course by proving he was the man to beat taking the lead from the very start.  He finished the race in 32:57. A similar situation to that of the 5km race ensued when Marko Bezzina  and Ian Camilleri gave a determined push at the finish line, both aiming for second place. In the end it was Bezzina who edged past Camilleri to take second and third place respectively.
Josanne Attard Pulis won the female category in 38:59, she was the sixth overall athlete to finish the 10km race. Joining her on the podium were second placed Vanessa Camilleri and third placed Christiana Borg.
Trophies and prizes to the Overall and Age Group winners were presented immediately after the race by Race Director Charlie Demanuele.
The next race of the Intersport 10k Series will take place on the 23rd April in Maqluba. Athletes can choose between a 5km or 10km distance and registration is open via this link –
https://10kseriesmalta.com/product/maqluba-2023/
The organisers expressed their gratitude towards the Local Councils of Cospicua, Senglea and Vittoriosa, Transport Malta and the District Police and Intersport for their support and assistance for this event.
| | | |
| --- | --- | --- |
| 5km Race | Males | Females |
| 1st | Dillon Cassar (15:35) | Joelle Cortis (17:48) |
| 2nd | Kurt Dalli (16:18) | Marija Cumbo (18:23) |
| 3rd | Mark Herrera (16:18) | Rosalie Borg Cauchi (18:53) |
| 10km Race | Males | Females |
| 1st | Aaron Mifsud (32:57) | Josann Attard Pulis (38:59) |
| 2nd | Mark Bezzina (37:09) | Vanessa Camilleri (44:31) |
| 3rd | Ian Camilleri (37:09) | Christiana Borg (45:58) |
2023 Intersport 10k Series Race Results – Age Group Winners
| | | |
| --- | --- | --- |
| 5km | Males | Females |
| 30-34 | Richard Grioli (17:58) | Gabriella Mangion (21:26) |
| 35-39 | Jurgen Gatt (17:46) | Charyl Fava (19:27) |
| 40-44 | Mario Grech (17:53) | Danny Abela (21:50) |
| 45-49 | Ryan Scerri (18:46) | Natasha Cefai (22:40) |
| 50-54 | Kevin Muscat (19:33) | Michelle Spiteri (29:21) |
| 55-59 | Philip Zammit (23:10) | Anna Guiga (28:19) |
| 60-59 | Anthony Seguna (21:16) | Jenny Mizzi (30:26) |
| 65-69 | Wally Giller (25:33) | - |
| 10km | Males | Females |
| 30-34 | Andrew Abela (40:00) | Gabriella Debono (50:43) |
| 35-39 | Christopher Buhagiar (37:19) | Rebecca Galea (46:56) |
| 40-44 | Steve Pace (39:13) | Josianne Farrugia (50:44) |
| 45-49 | Evan Chetcuti (41:28) | Louise Micallef (49:31) |
| 50-54 | Mario Agius (40:37) | Rosita Cassar (47:41) |
| 55-59 | Charles Camilleri (44:19) | - |
| 60-59 | Carmel Grima (47:07) | - |
| 65-69 | Godwin Tonna (51:57) | - |
| 70+ | Nicholas Vassallo (59:32) | - |